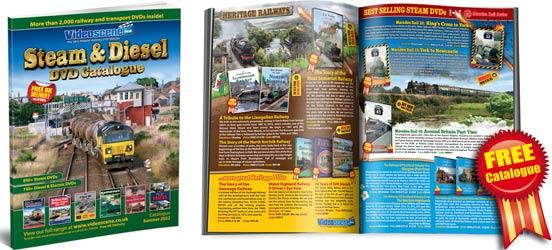 We are pleased to bring you our summer catalogue with the latest railway and transport DVDs and Blu-rays. It's another great lineup starting with No.26 in the best-selling Big Freight series - another action-packed three-hour edition. As a way of thanking our longstanding customers, the £5.00-off promotion is available again. Order before the end of May.
New Cab Rides include a Class 57 from Norwich to Leicester and something a bit different: District Line: Richmond to Upminster.
No.9 in the popular British Rail Motive Power 1981-1999 series is out now with more superb footage from the BR blue years and beyond.
Add some archive and preserved steam, footplate rides, documentaries, US Steam, Swiss cab rides and five more of the popular four-disc sets all for just £25.00 a set, and it's another great lineup.
We are pleased to announce that the delayed Blackpool Tram book is out now. Click here to order your copy.
Staying with books and we've added a further selection of titles from Book Law and Pen and Sword.
Are you subscribed to our email newsletters? Click here to subscribe, so we can keep you posted. This is a promise, an ABSOLUTE promise: We will NOT bombard you with emails! At most we send 7 or 8 a year with details of the latest offers, shows and new releases. That's it! Calm and controlled - no junk!
Our office and mail order service are operating as normal from 9am to 4.30pm Monday to Friday, taking calls and processing orders. Please order as normal. The Blackpool Tram Shop is open as normal, 10am to 4pm Monday to Saturday.
Click here to order a free printed catalogue or click here to download the catalogue, approx. 18Mb pdf.

You may notice the word 'HOT' next to a few titles in this catalogue. This basically means these are very popular and best-selling titles and we have plenty of them in stock. If you order before 10am on a weekday, we can normally ship your order by first class post the same day.
Don't forget we still charge £ZERO postage on all DVD/Blu-ray orders to UK addresses. Please don't be paying £2.00 or £2.50 per DVD from other sellers. If the item you want is £14.95, that's exactly what it will cost you - £zero postage - £zero credit card fees - GUARANTEED!
Thank you for your continued support.
Click here to download the catalogue (approx. 18Mb pdf)