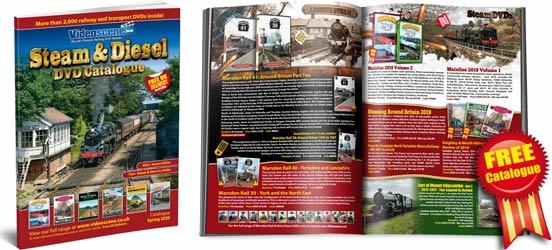 Our Spring 2020 Catalogue is available now as a free PDF download (see below) or if you would prefer a free printed copy, just contact us with your address and we'll put one in the post.
Click here to order a free printed catalogue or click here to download the catalogue, approx. 39Mb pdf.
New year, new decade, and as always the catalogue produced this quarter includes reviews of the previous year, this one is no exception.
Looking back at 2019 for diesels we have Traction 2019 Part 2 and Scottish Diesels 2019 Review. For steam reviews we have: Mainline 2019 Volume 2, Steaming Around Britain 2019 and the Keighley & Worth Valley Railway - Review of 2019.
There are lots of new Cab Rides and Driver's Eye Views out now and coming soon including The Berks and Hants - the first DEV filmed on board a Class 802 IEP train; a Colas Class 70 from Hinksey to Bescot on an engineers train; a Scotrail Class 156 from Warrington to Swansea; a Class 90 hauling containers along the Great Eastern and a Class 185 from Manchester to Hull!
I'm also pleased to announce that we are now stocking a selection of the Swiss Railway cab rides produced by Perren. See the double page feature in our new catalogue.
HSTs are in the news this quarter with farewell tours and special repaints. See Page 9 of the catalogue.
A new year means two new guide books and the UK Light Rail and Tram Museum Guide 2020 is released in March; the London Underground 2020 guide is out now. Both books are fully updated for the year ahead.
At this time of year the Videoscene stall is out and about. We start in February at the Doncaster show followed by the huge Glasgow Model Rail show. In March, it's Alexandra Palace in London and then April, back to London for the Acton Museum Open Weekend. If you're attending any of these shows, please come along and say hello!

You may notice the word 'HOT' next to a few titles in our catalogue. This basically means these are very popular and best-selling titles and we have plenty of them in stock. If you order before 12noon on a weekday, we guarantee to ship your order by first class post the same day. Don't forget we still charge £ZERO postage on all DVD/Blu-ray orders to UK addresses. Please don't be paying £2.00 or £2.50 per DVD from other sellers. If the item you want is £14.95, that's exactly what it will cost you - £zero postage - £zero credit card fees - GUARANTEED!
Thank you for your continued support.
Click here to download the catalogue (approx. 39Mb pdf)