Free Catalogue
Autumn 2019 DVD Catalogue is OUT NOW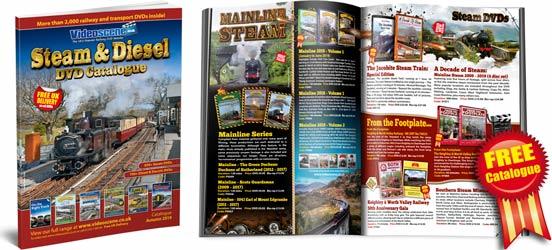 Our Autumn 2019 Catalogue is available now as a free PDF download (see below) or if you would prefer a free printed copy, just contact us with your address and we'll put one in the post.
Click here to order a free printed catalogue.
One of the things we enjoy about compiling these catalogues is the variety of new titles which are released each quarter and this time we're really pleased that FINALLY, the 13th title in the best-selling and ever-popular British Transport Films is here. On the Right Track is another fine compilation from the BTF archives and will no doubt be popular.
More new releases include Sunrise Sunset: A Day at Banbury, Class 37 Hauled No.8, ROG Stock move 7 - a cab ride onboard a Class 159 DMU from Bristol to Salisbury and Traction 2019 Part 1.
For steam fans, Mainline 2019 Part 1 is out now with another great selection of steam action filmed countrywide; there's a new Jacobite DVD and booklet, and we have some new American and Swiss titles plus Paddle Steamers, Signal Boxes, Italian Trolleybuses and a Blackpool Tram book!


You may notice the word 'HOT' next to a few titles in our catalogue. This basically means these are very popular and best-selling titles and we have plenty of them in stock. If you order before 12noon on a weekday, we guarantee to ship your order by first class post the same day. Don't forget we still charge £ZERO postage on all DVD/Blu-ray orders to UK addresses. Please don't be paying £2.00 or £2.50 per DVD from other sellers. If the item you want is £14.95, that's exactly what it will cost you - £zero postage - £zero credit card fees - GUARANTEED!
Thank you for your continued support.
Click here to download the catalogue (approx. 24Mb pdf)