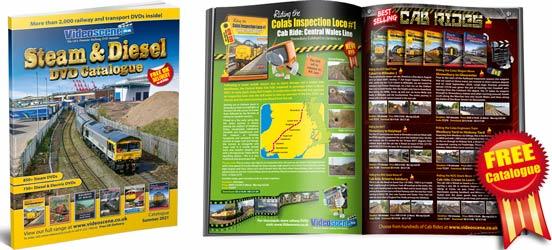 With improved weather and the summer months now on their way, let's hope better days lie ahead for rail travel, heritage lines and rail tours. A much-needed boost for us all! In the meantime, welcome to our summer catalogue. Over it's 32 pages, you'll find a great selection of new titles, ranging from cab rides to archive steam, UK freight, European railways and trams.
Click here to order a free printed catalogue or click here to download the catalogue, approx. 23Mb pdf.
Big Freight 24 will be released in late-May. Filmed and produced to the usual high standard, there is some truly stunning film of Class 37s ploughing snow drifts and a feast of freight countrywide, from Class 20s to 70s - including a feature on Derby - currently THE freight hotspot in the UK!
New Cab Rides include 47812 on an epic Route Learning journey from Derby to Mossend and back; 37421 on the Central Wales line; A Class 802 from Newcastle to York in sunshine and snow and further afield - six new titles from Switzerland.
No.7 in the popular and best-selling British Rail Motive Power 1981-1999 series is out now; Tube Trains on the Isle of Wight looks at the various types that have run over the years plus the final days of the Class 483s from January 2021; and have a look at our four-disc sets - just £25.00-each, 30 to choose from.
Archive steam comes from the Richard Willis Collection; A Decade Of Steam: Ffestiniog & Welsh Highland Railway 2010 - 2020 is a superb 4-disc set and three new books look at Southern, Manx and LNER steam subjects.

You may notice the word 'HOT' next to a few titles in this catalogue. This basically means these are very popular and best-selling titles and we have plenty of them in stock. If you order before 10am on a weekday, we can normally ship your order by first class post the same day.
Don't forget we still charge £ZERO postage on all DVD/Blu-ray orders to UK addresses. Please don't be paying £2.00 or £2.50 per DVD from other sellers. If the item you want is £14.95, that's exactly what it will cost you - £zero postage - £zero credit card fees - GUARANTEED!
Thank you for your continued support.
Click here to download the catalogue (approx. 23Mb pdf)