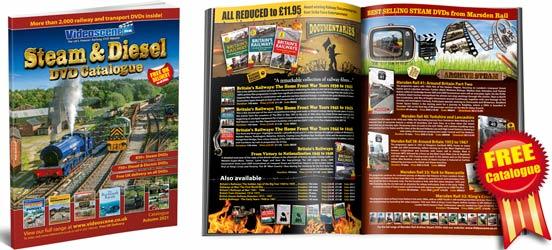 In our latest 32 page catalogue, you'll find a great selection of new titles, ranging from cab rides to archive steam, UK freight, European railways and trams.
Click here to order a free printed catalogue or click here to download the catalogue, approx. 23Mb pdf.
New cab rides include a Class 56 from Crewe to Southport running via the freight-only Bootle Branch and Merseyrail's Northern Line - a rare daylight loco move!
You may be enjoying the summer sunshine right now but how about a Scottish Snow Cab Ride on a Class 37, filmed in February 2021?
Traction 2021 - Part One is due for release at the end of August, with another feast of exotic workings.
Class 37 Hauled No.14 is also due for release in late August with the latest Tractor action including features on 37057 and 37075.
No.11 in the popular Sunrise Sunset series spends a day at Water Orton and Kingsbury Junction, filmed July 2021.
For steam fans, have a look at The Barmouth Rivals - Two Lines to the Cambrian Coast and we've a feature on Chinese Steam, with the best of British Steam from Marsden Rail.
Latest European releases include three more Cab Rides from Switzerland plus German Railways past and present.

You may notice the word 'HOT' next to a few titles in this catalogue. This basically means these are very popular and best-selling titles and we have plenty of them in stock. If you order before 10am on a weekday, we can normally ship your order by first class post the same day.
Don't forget we still charge £ZERO postage on all DVD/Blu-ray orders to UK addresses. Please don't be paying £2.00 or £2.50 per DVD from other sellers. If the item you want is £14.95, that's exactly what it will cost you - £zero postage - £zero credit card fees - GUARANTEED!
Thank you for your continued support.
Click here to download the catalogue (approx. 23Mb pdf)