Autumn 2018 Steam & Diesel DVD Catalogue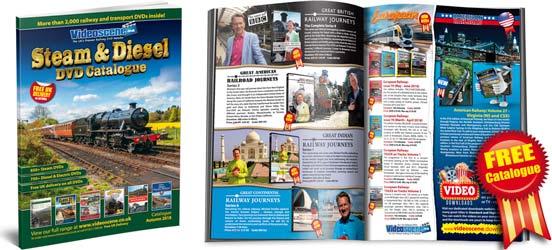 Our Autumn 2018 Catalogue is available now as a free PDF download (see below) or if you would prefer a free printed copy, just contact us with your address and we'll put one in the post.
Click here to order a catalogue.
Once again we have a great selection of new steam, diesel and archive railway DVDs and Blu-rays, mixed in with documentaries, European and American titles.
Two of the ever popular Steam Driver's Eye Views feature LMS Jubilee Class No. 45690 'Leander', firstly on the Hope Valley Line, from Manchester to Sheffield and secondly, 'across the moss' from Liverpool to Manchester.
Staying with Driver's Eye Views and Video 125 have released a Class 68 hauled journey featuring the entire Chiltern Mainline. Mersey Boxes looks at signalling around Liverpool and the eagerly awaited Traction 2018 Part One is another not to be missed.
Other diesel and electric titles include Sunrise Sunset 8 - A Day at Doncaster and No.5 in the popular Class 37 Hauled series is another quality new release.
The new Blackpool Tram Shop is now open. With more than 3,000 DVDs and Blu-rays permanently in stock, this really is a great place for Videoscene customers to visit! It's so easy to find… just two minutes from J4 of the M55 and there's unlimited free parking! Click for more details.

You may notice the word 'HOT' next to a few titles in the catalogue. This basically means these are very popular and best selling titles and we have plenty of them in stock. If you order before 12noon on a weekday, we guarantee to ship your order by first class post the same day. Don't forget we still charge £ZERO postage on all DVD/Blu-ray orders to UK addresses. Please don't be paying £2.00 or £2.50 per DVD from other sellers. If the item you want is £14.95, that's exactly what it will cost you - £zero postage - £zero credit card fees - GUARANTEED!
Thank you for your continued support.
Click here to download the catalogue (approx. 30Mb pdf)