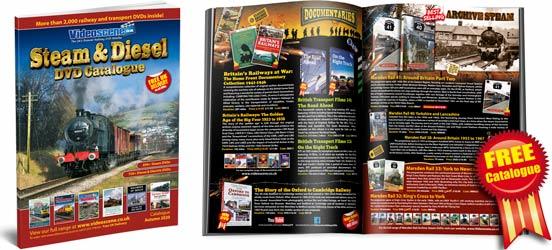 Despite the ongoing UK wide restrictions and the reduction in trains operated and Heritage lines open - and in turn, opportunities to film - I'm pleased to be able to bring you what is almost a near-normal catalogue for this time of year. Many of the producers have dug deep into the archives and over the next 32-pages, there are some great new titles to provide a bit of joy during these difficult times.
Click here to order a free printed catalogue or click here to download the catalogue, approx. 9Mb pdf.
Out now and coming soon is a Cab Ride on a pair of Class 20s from Newport to Kings Norton, a Cab Ride on a Class 185 from Manchester to Liverpool and Traction 2020 Part 1 is on schedule for a late August release.
Staying with diesels and Class 37 Hauled No.11 is new, along with East Coast Power, BR Green Diesels and Diesel Masterclass and we are pleased to announce five more value-for-money Four-disc sets.
How about something completely different: Colour by Numbers 2008-2020 - 101 different Loco, DMU, EMU, Coach and Wagon liveries!
For steam fans, we have some great compilations from PSOV featuring Union of South Africa, Nunney Castle, Princess Margaret Rose and The Great Marquess; and Isle of Wight Railways in Colour 1953 -1994 is selling well.
New European and Swiss titles include three new Swiss Cab Rides from Perren and German and Swiss Loco titles from Lineside.

You may notice the word 'HOT' next to a few titles in our catalogue. This basically means these are very popular and best-selling titles and we have plenty of them in stock. If you order before 12noon on a weekday, we guarantee to ship your order by first class post the same day. Don't forget we still charge £ZERO postage on all DVD/Blu-ray orders to UK addresses. Please don't be paying £2.00 or £2.50 per DVD from other sellers. If the item you want is £14.95, that's exactly what it will cost you - £zero postage - £zero credit card fees - GUARANTEED!
Please note: Orders are still being processed, delivery may take an extra day or two, but they are getting through.
Thank you for your continued support.
Click here to download the catalogue (approx. 17Mb pdf)