Winter 2019 DVD Catalogue is OUT NOW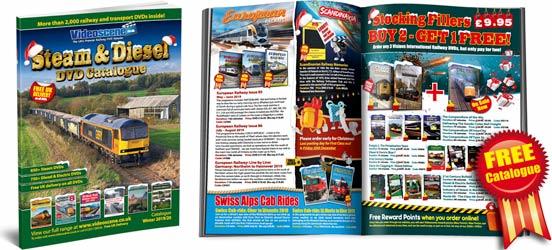 Our Winter 2019/20 Catalogue is available now as a free PDF download (see below) or if you would prefer a free printed copy, just contact us with your address and we'll put one in the post.
Click here to order a free printed catalogue.
Winter is the time of year when we usually have a large number of new releases and this year is no exception. Over it's 32 pages, you'll find details of more than 50 new titles as well some new lower prices and special offers. Starting at just £9.95, the DVD remains the ultimate stocking filler!
For diesel fans, new titles include Big Freight 22 and Power Hour 8. Diesel Hauled Passenger Trains - The Story of 2019 features Class 37s at Rhymney and 68s working for TPE. No.4 in the best-selling and popular British Rail Motive Power series provides another feast of diesels and electrics from the 1980s onwards.
For steam fans, two new Driver's Eye Views are on board 60009 'Union of South Africa' from Berwick to Edinburgh and on 5029 'Nunney Castle' along the Welsh Marches.
New cab rides include a Colas Class 70, a green Class 33 and a Network Rail Class 97! Edinburgh & Glasgow - Driver's Eye View is the latest release from Video 125.
Add European steam and diesels, buses, trams, ships and a Blackpool Tram book and that's Christmas all wrapped up!
The Videoscene stall hits the road for the big Warley show in November and Peterborough in December. If you're coming to either, please pop along and say hello!

You may notice the word 'HOT' next to a few titles in our catalogue. This basically means these are very popular and best-selling titles and we have plenty of them in stock. If you order before 12noon on a weekday, we guarantee to ship your order by first class post the same day. Don't forget we still charge £ZERO postage on all DVD/Blu-ray orders to UK addresses. Please don't be paying £2.00 or £2.50 per DVD from other sellers. If the item you want is £14.95, that's exactly what it will cost you - £zero postage - £zero credit card fees - GUARANTEED!
Thank you for your continued support.
Click here to download the catalogue (approx. 39Mb pdf)