Summer 2020 DVD Catalogue is OUT NOW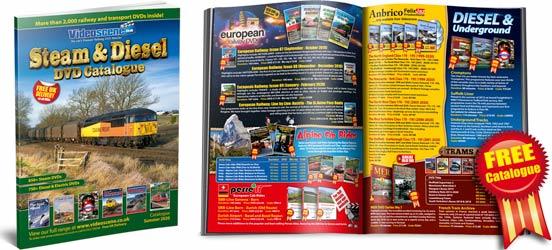 We traditionally produce our summer catalogue in May but with the current situation, we were unsure what to do. We have closed our shop and are running the mail order side on reduced hours with a skeleton crew. With the Post Office and Royal Mail still working and our printers able to print we decided to do a special 12-page catalogue of mostly new releases - and here it is! Hopefully this can bring a bit of enjoyment at these difficult times! Our Summer 2020 Catalogue is available now as a free PDF download (see below) or if you would prefer a free printed copy, just contact us with your address and we'll put one in the post.
Click here to order a free printed catalogue or click here to download the catalogue, approx. 9Mb pdf.
With the UK on lockdown at the time of writing and limited filming opportunities the spring release of Big Freight has been deferred and instead, a special Best of Big Freight title is available. British Rail Motive Power Volume 5 is out now and how about a cab ride on a pair of Class 20s?
The Road Ahead is No.14 in the British Transport Films Collection - in stock now.
New steam releases include A Decade of Steam on the North Yorkshire Moors and The Keighley & Worth Valley Railway Spring Steam Gala 2020 - one of the few that took place. Compilation DVDs feature locos The Great Marquess and Princess Margaret Rose.
From Video 125 come Underground Tracks and French Tram Archive .

You may notice the word 'HOT' next to a few titles in our catalogue. This basically means these are very popular and best-selling titles and we have plenty of them in stock. If you order before 12noon on a weekday, we guarantee to ship your order by first class post the same day. Don't forget we still charge £ZERO postage on all DVD/Blu-ray orders to UK addresses. Please don't be paying £2.00 or £2.50 per DVD from other sellers. If the item you want is £14.95, that's exactly what it will cost you - £zero postage - £zero credit card fees - GUARANTEED!
Please note: Orders are still being processed, delivery may take an extra day or two, but they are getting through.
Thank you for your continued support.
Click here to download the catalogue (approx. 9Mb pdf)