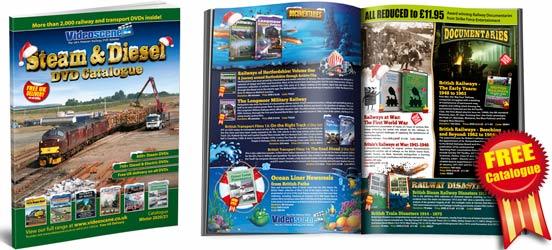 I don't think you need me to tell you that 2020 has been a strange and difficult year. Who would have thought that the biggest model railway event of the year at Warley would be cancelled and the second biggest at Glasgow, next February is also now cancelled. With much of the railway year wiped out as well, I'm quite pleased to be bringing you our new catalogue, with a larger-than-expected number of new releases.
Click here to order a free printed catalogue or click here to download the catalogue, approx. 20Mb pdf.
Contained in the catalogues 32 pages, you'll find details of more than 50 new titles as well some new lower prices and special offers. Starting at just £9.95, the DVD remains the ultimate stocking filler!
For diesel and electric fans, new titles include Big Freight 23, Sunrise Sunset 10, Class 37 Hauled 12 and No.6 in the best-selling and popular British Rail Motive Power series - with another feast of diesels and electrics from the 1980s onwards.
For steam fans, a Driver's Eye View on board 'Union of South Africa' from Norwich to Peterborough; Southbound on the North Yorkshire Moors on board 'Eric Treacy' and superb archive footage in Trains & Trams of the Isle of Man 1956 -1972.
New cab rides include a journey on board 37418 on the Welsh Marches plus some cab rides from the 1990s.
We now have 20 four-disc sets to choose from - spanning archive steam and diesels plus modern image - with up to five hours of running time - all for just £25.00 a set.
Add European and worldwide railways, buses, trams, planes, cars, ships and some great new books, we've got Christmas all wrapped up!

You may notice the word 'HOT' next to a few titles in our catalogue. This basically means these are very popular and best-selling titles and we have plenty of them in stock. If you order before 12noon on a weekday, we guarantee to ship your order by first class post the same day. Don't forget we still charge £ZERO postage on all DVD/Blu-ray orders to UK addresses. Please don't be paying £2.00 or £2.50 per DVD from other sellers. If the item you want is £14.95, that's exactly what it will cost you - £zero postage - £zero credit card fees - GUARANTEED!
Please note: With all model shows and events cancelled, we've stepped up the mail order side of Videoscene. At the time of production, Royal Mail is working as normal and orders are getting through in the expected time.
Thank you for your continued support.
Click here to download the catalogue (approx. 20Mb pdf)