Summer 2019 DVD Catalogue is OUT NOW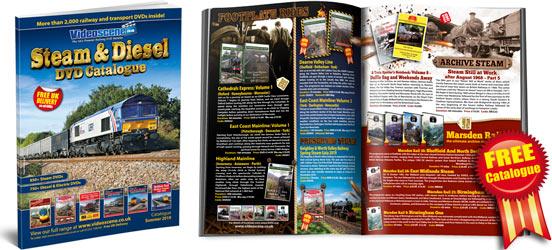 Our Summer 2019 Catalogue is available now as a free PDF download (see below) or if you would prefer a free printed copy, just contact us with your address and we'll put one in the post.
Click here to order a catalogue.
Once again we are pleased to bring you a great selection of new titles from the various producers - from cab rides to archive steam, and Alaska and Canadian railroads to Polish trams! What a great choice!
Brand new and in stock now is Pendolino: A Driver's Eye View on board a Class 390 from Euston to Manchester. Two further cab rides are Riding the ROG Stock Move#5 - Crewe to Leeds and Riding the ROG Stock Move#6 - Leicester to Eastleigh.
No.21 in the Big Freight series is released on 28th May, once again, crammed with freight action countrywide. As a way of saying thank you to our long-standing customers, we are pleased to offer £5.00 off the price of the DVD or Blu-ray if ordered before 31st May (simply enter the Voucher Code: VSBF21 during checkout).



Also new, British Rail Motive Power 1981-1999 Volume 3 - another dose of quality diesel and electric footage from days past.
The Videoscene stall is about and about this summer. We'll be at the big Crewe Diesel depot charity open day on 8th June and the annual DRS depot open day - at Carlisle this year - on 20th July. We're also attending two tram events: Totally Models at Rigby Road, Blackpool depot on 22nd/23rd June and Fleetwood Tram Sunday on 21st July. If you're attending any of these shows, please come along and say hello!
You may notice the word 'HOT' next to a few titles in this catalogue. This basically means these are very popular and best selling titles and we have plenty of them in stock. If you order before 12noon on a weekday, we guarantee to ship your order by first class post the same day. Don't forget we still charge £ZERO postage on all DVD/Blu-ray orders to UK addresses. Please don't be paying £2.00 or £2.50 per DVD from other sellers. If the item you want is £14.95, that's exactly what it will cost you - £zero postage - £zero credit card fees - GUARANTEED!
Thank you for your continued support.
Click here to download the catalogue (approx. 24Mb pdf)