NEW!

Winter 2023/24 DVD Catalogue.
It's the time of year when the new releases come thick and fast and with so much coming out AND a lot more books, we've gone bigger, with a bumper 48-page catalogue!
New releases include Big Freight 29; a cab ride on a Class 97 on the Cambrian Timber train; a cab ride on a HST from Glasgow to Dundee and another on board a Class 397 EMU from Edinburgh to Carlisle.

There are some great new steam titles as well including Welsh Narrow Gauge in the 1950s and 1960s and A Decade of Steam looking at the Big Four. No.15 in the very popular British Transport film series is out in December and there's a second Blu-ray compilation.
Heading further afield we're pleased to announce that the programmes made by Belhurst over the last 20-years are going through the upscale and remaster process. We start with ten titles, covering China, South Africa, France and Germany.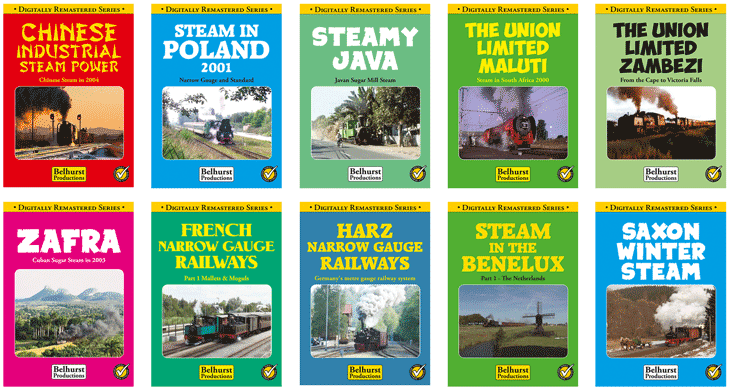 Add Class 86s, HSTs, EMUs, DMUs, trams, buses and some top quality books and it's another action packed catalogue. Look out for some £9.95 DVDs and 3 for 2 offers.
Click here to download the catalogue (approx. 28Mb pdf) or click here to request a free printed catalogue.
Are you subscribed to our email newsletters? Click here to subscribe, so we can keep you posted. This is a promise, an ABSOLUTE promise: We will NOT bombard you with emails! At most, we send 7 or 8 a year with details of the latest offers, shows and new releases. That's it! Calm and controlled - no junk!
Please remember, we charge £ZERO postage on all DVD, Blu-ray and book orders to any UK address. If the item you want is £14.95, that's exactly what it will cost you - £zero postage - £zero card fees - £zero added - GUARANTEED!
You may notice the word 'HOT' next to a few titles in this catalogue. This basically means these are very popular and best selling titles so we have plenty of them in stock. If you order before 10am on a weekday, we can normally ship your order by first class post the same day.
Thank you for your continued support.
Click here to download the catalogue (approx. 28Mb pdf)
Blackpool and the Trams 2024 Calendar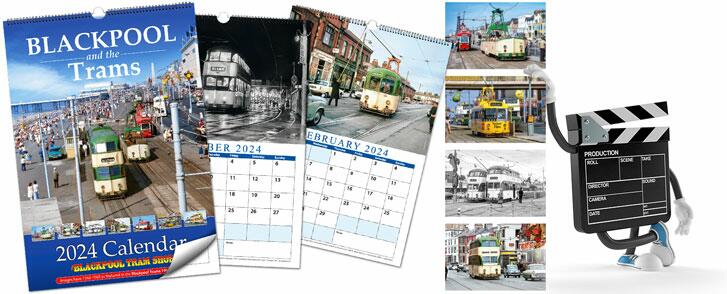 Our 2024 calendar is now in stock.
Our 2024 Blackpool Tram Calendar once again features 13 superb images from the years 1968 to 1985 as featured in our Blackpool Trams 1968-1985 book.
The calendar is A3 sized, spiral bound showing one month at a time. Printed on glossy paper in full colour, to the same high standard as always, it is available from this website and the Blackpool Tram Shop. Click here to order.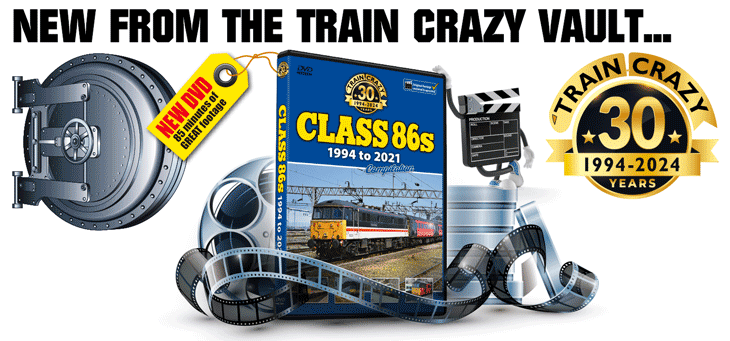 2024 marks the 30th anniversary of Train Crazy railway videos and DVDs. Starting out as a hobby in 1994, then a full-time job from 1998, over the last three decades, just about every type of locomotive and unit has featured, with more than 400 passenger, freight, cab ride and tram titles, released on VHS tape, DVD, Blu-ray and download.
Starting now in 2023 - to mark the occasion - a series of special low-price compilation DVDs and Blu-rays are being produced using the original film shot 30 years ago, right up to more recent times. Presented in a class-by-class format, and delving deep into the archives, some of this footage has been released before on VHS tape, some on DVD and some has never been seen at all.
Here's the good bit... In the last few years, software to restore old grainy and wobbly film has become more accessible. Previously it was expensive, slow and not very good, but in 2022 huge advances were made. The old film used on these new compilation programmes is all being reworked, improved, cleaned up and upscaled. For the first time, all of the film shot in standard-definition (720 x 576 or less) can be upscaled and presented in top-quality high-definition (1920 x 1080).
Long gone and long scrapped EMUs, DMUs, 31s, 37s, 47s, 86s and many other locos and coaches which were only ever filmed in SD, can now be appreciated in full HD! Whether on DVD or Blu-ray, the picture quality of this new series is better than anything seen before, of trains filmed in the same era.
The fourth release features Train Crazy film of the Class 86 locomotives from the period 1994 to 2021. The 86 needs little introduction and locos are featured far and wide including West Coast, Cross Country and Anglia passenger duties as well as West Coast container and mail trains. More than 50 different locos are featured wearing a rainbow of liveries - from Inter City and Virgin to the numerous Freightliner colours, RES and a few celebrities.
Presented in a no-nonsense format of on-screen captions with unit number, location and date, sit back and enjoy some top-quality action from up to 30 years ago - with much-improved picture quality and in HD for the very first time! This is far from a complete record of these units during these years but this is what was filmed, now re-edited, re-worked and upscaled.
Click here for more details on the fourth release.
Mugs for Winter 2023

The latest additions to our popular range of transport mugs are these eight new humorous mugs.



The Beauty of Steam Collection

Filmed over the last quarter of a century, The Beauty of Steam Collection series features wonderful steam trains as they wend their way through some of the most spectacular countryside, lakes and mountains that the British Isles has to offer. A wonderful mid-price series - highlighting the wonderful world of British steam locomotives in the landscape.



Subscribe to our Free Email Newsletter!

Subscribe to our free email newsletter for the latest DVD news and exclusive subscriber-only offers!
This is a promise, an ABSOLUTE promise: We will NOT bombard you with emails! At most, we send 7 or 8 a year with details of shows, new releases and exclusive subscriber-only offers. That's it! Calm and controlled - no junk!
Click here to subscribe
Any 5 Magazines for £10!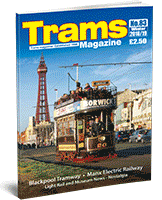 Buy 5 issues of Trams Magazine for only £10.
Back issues of our popular Trams Magazine are now available at only £10 for 5 magazines (just add any 5 issues to your basket and the discount will automatically be applied).
It's the perfect time to complete your collection, but hurry while stocks last!
Click here to select your copies
Selling Fast!

Blackpool Trams 1968-1985
Blackpool Trams 1968-1985 is in stock now, order your copy today!
This is the second of a three-book series. It contains a collection of evocative and beautifully restored images of Blackpool's trams from the years 1968 to 1985.
Limited to 1,000 copies, each book has been certified, numbered and personally signed by the author. Printed on coated super-glossy thick art paper, hardback and thread sewn with 280 pages and 487 images - most of which are previously unseen and previously unpublished.


Limited to 1,000 copies - order your copy today.
Book 1 in this series has almost sold out, to avoid disappointment please order soon Click here to order Book 1 (1950-1967).


5 New Four-Disc Collections!


We now have 47 four-disc value-for-money collections, featuring some of our previous releases.
Click here for more details.
Video Downloads - available on this website!
Railway videos to watch on your computer or TV - right now
Great News! Our popular video downloads are now available to purchase directly on this website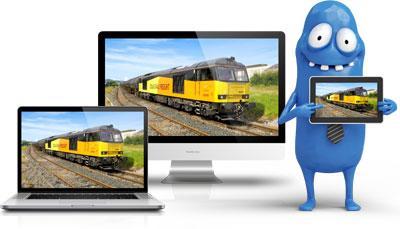 We offer many great titles in Standard and High Definition. Once downloaded, you can watch the videos on your computer, mobile device or TV - and the downloads are yours to keep forever.
We began producing railway videos on VHS cassettes back in 1994. As technology evolved we moved onto DVDs and more recently to high definition Blu-rays - Video Downloads are another step forward. It isn't a replacement for DVDs and Blu-rays, it's an additional service we offer.
After making a purchase you will receive a link by email from where you can download your videos. They are then yours to keep forever and play on any devices you like.


If you see this icon next to one of our titles, that means it is the video download version.
Click here to see our video downloads Click here for more information about our downloads.

The Blackpool Tram Shop
The shop is located on the outskirts of Blackpool at Whitehills Business Park, behind the huge B&Q, two minutes from J4 at the end of the M55.
There was an ongoing joke that if four people were in the old shop it was full and this may well have been true! The new unit eliminates all of this and has many benefits which include: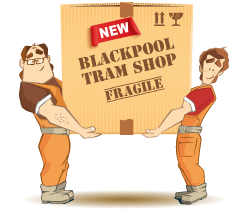 FREE customer parking, which we were asked for so many times
A huge first floor showroom, 10 times the size of the old shop
For the first time we will be able to display ALL of our DVDs and ALL of our books plus many other items - not just a selection
The shop is a new-build on a developing complex and on all those winter days of gale force winds and high tides - when we couldn't open at North Pier - this is very much inland, less windy and drier!
We will be now be able to expand further, introduce more books, new tram memorabilia and some other very exciting new products yet to be announced
The address of The Blackpool Tram Shop is:
Unit 8, Juniper Court
Thompson Road
Whitehills Business Park
Blackpool
FY4 5QF
Click here to see a map.
We are open as normal.
Our office and mail order service are operating as normal from 9am to 4.30pm Monday to Friday, taking calls and processing orders. Please order as normal.
The Blackpool Tram Shop is open as normal, 10am to 4pm Monday to Saturday.
Please order from Videoscene as normal:
Order online from this website: www.videoscene.co.uk
Order by phone: 01253 738336 (9am to 4.30pm Monday to Friday)
Order by post: FREEPOST VIDEOSCENE (no stamp or postcode required)
Visit The Blackpool Tram Shop: 10am to 4pm
Thank you for your support.