Autumn Releases from Videoscene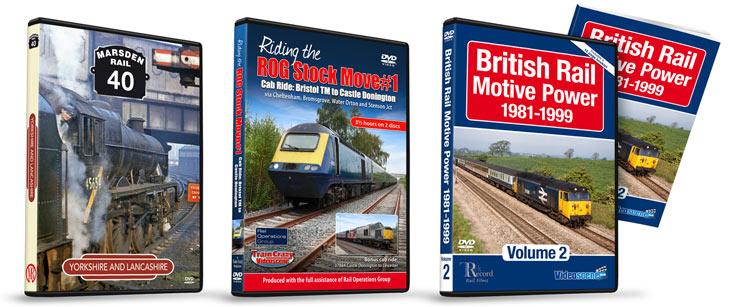 Autumn releases from Videoscene include No.40 in the best-selling Marsden Rail series, a brand new cab ride on board a HST and DVD No.2 in the British Rail Motive Power series.
More details:
Marsden Rail 40: Yorkshire and Lancashire
Riding the ROG Stock Move #1 - Cab Ride: Bristol TM to Castle Donington
British Rail Motive Power 1981-1999 Volume 2
Video Downloads - available on this website!
Railway videos to watch on your computer or TV - right now
Great News! Our popular video downloads are now available to purchase directly on this website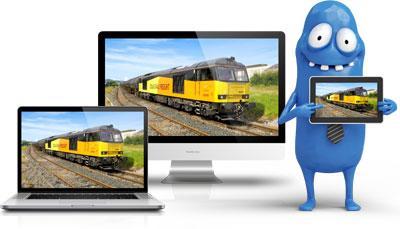 We offer many great titles in Standard and High Definition. Once downloaded, you can watch the videos on your computer, mobile device or TV - and the downloads are yours to keep forever.
We began producing railway videos on VHS cassettes back in 1994. As technology evolved we moved onto DVDs and more recently to high definition Blu-rays - Video Downloads are another step forward. It isn't a replacement for DVDs and Blu-rays, it's an additional service we offer.
After making a purchase you will receive a link by email from where you can download your videos. They are then yours to keep forever and play on any devices you like.


If you see this icon next to one of our titles, that means it is the video download version.
Click here to see our video downloads Click here for more information about our downloads.
New Books Now in Stock
Available POST FREE to all UK customers - click for details.



Autumn 2018 Steam & Diesel DVD Catalogue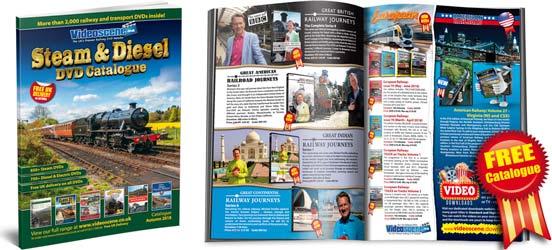 Our brand new Autumn 2018 Catalogue is available now as a free PDF download (see below) or if you would prefer a free printed copy, just contact us with your address and we'll put one in the post.
Once again we have a great selection of new steam, diesel and archive railway DVDs and Blu-rays, mixed in with documentaries, European and American titles.
Two of the ever popular Steam Driver's Eye Views feature LMS Jubilee Class No. 45690 'Leander', firstly on the Hope Valley Line, from Manchester to Sheffield and secondly, 'across the moss' from Liverpool to Manchester.
Staying with Driver's Eye Views and Video 125 have released a Class 68 hauled journey featuring the entire Chiltern Mainline. Mersey Boxes looks at signalling around Liverpool and the eagerly awaited Traction 2018 Part One is another not to be missed.
Other diesel and electric titles include Sunrise Sunset 8 - A Day at Doncaster and No.5 in the popular Class 37 Hauled series is another quality new release.
The new Blackpool Tram Shop is now open. With more than 3,000 DVDs and Blu-rays permanently in stock, this really is a great place for Videoscene customers to visit! It's so easy to find… just two minutes from J4 of the M55 and there's unlimited free parking! Click for more details.

You may notice the word 'HOT' next to a few titles in the catalogue. This basically means these are very popular and best selling titles and we have plenty of them in stock. If you order before 12noon on a weekday, we guarantee to ship your order by first class post the same day. Don't forget we still charge £ZERO postage on all DVD/Blu-ray orders to UK addresses. Please don't be paying £2.00 or £2.50 per DVD from other sellers. If the item you want is £14.95, that's exactly what it will cost you - £zero postage - £zero credit card fees - GUARANTEED!
Thank you for your continued support.
Click here to download the catalogue (approx. 30Mb pdf)

The New Blackpool Tram Shop
The NEW Blackpool Tram Shop is now open!
The new shop is located on the outskirts of Blackpool at Whitehills Business Park, behind the huge B&Q, two minutes from J4 at the end of the M55.
There was an ongoing joke that if four people were in the old shop it was full and this may well have been true! The new unit eliminates all of this and has many benefits which include: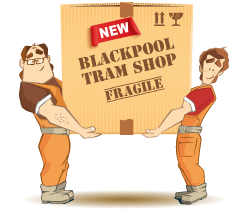 FREE customer parking, which we were asked for so many times
A huge first floor showroom, 10 times the size of the old shop
For the first time we will be able to display ALL of our DVDs and ALL of our books plus many other items - not just a selection
The shop is a new-build on a developing complex and on all those winter days of gale force winds and high tides - when we couldn't open at North Pier - this is very much inland, less windy and drier!
We will be now be able to expand further, introduce more books, new tram memorabilia and some other very exciting new products yet to be announced
Shop opening hours are:
Mondays to Fridays: 10am to 5pm
Saturdays: 10am to 4pm
Sundays: Closed
Click here for more details.