Opening Times update 31st March 2020
As of Tuesday 31st March our office will be open from 10am to 4pm, Monday to Friday - pending any further government instructions.
During this time we will be able to process online orders and take calls.
The shop remains closed.
Thank you for your understanding
Coronavirus update 24th March 2020
Further to the government's advice last night, we have decided to close The Blackpool Tram Shop as of 5pm tonight.
We will however, carry on with the website/mail order side of Videoscene - pending any further announcements.
The latest government advice published on 23rd March, regarding the closure of businesses states: "Online retail is still open and encouraged and postal and delivery service will run as normal".
With this in mind, we will reduce the number of staff and operating hours and so long as Royal Mail continue to call and collect the mail as normal - and we can get stock in - we will continue to take orders by phone, post and online.
We will review the situation on a daily basis.
Thank you for your support and understanding at this difficult time. We will do our best to fulfil orders.
Nick Meskell
NEW Spring 2020 DVD Catalogue is out now!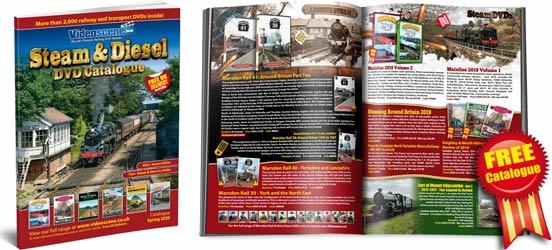 Our Spring 2020 Catalogue is available now as a free PDF download (see below) or if you would prefer a free printed copy, just contact us with your address and we'll put one in the post.
Click here to order a free printed catalogue or click here to download the catalogue, approx. 39Mb pdf.
New year, new decade, and as always the catalogue produced this quarter includes reviews of the previous year, this one is no exception.
Looking back at 2019 for diesels we have Traction 2019 Part 2 and Scottish Diesels 2019 Review. For steam reviews we have: Mainline 2019 Volume 2, Steaming Around Britain 2019 and the Keighley & Worth Valley Railway - Review of 2019.
There are lots of new Cab Rides and Driver's Eye Views out now and coming soon including The Berks and Hants - the first DEV filmed on board a Class 802 IEP train; a Colas Class 70 from Hinksey to Bescot on an engineers train; a Scotrail Class 156 from Warrington to Swansea; a Class 90 hauling containers along the Great Eastern and a Class 185 from Manchester to Hull!
I'm also pleased to announce that we are now stocking a selection of the Swiss Railway cab rides produced by Perren. See the double page feature in our new catalogue.
HSTs are in the news this quarter with farewell tours and special repaints. See Page 9 of the catalogue.
A new year means two new guide books and the UK Light Rail and Tram Museum Guide 2020 is released in March; the London Underground 2020 guide is out now. Both books are fully updated for the year ahead.
At this time of year the Videoscene stall is out and about. We start in February at the Doncaster show followed by the huge Glasgow Model Rail show. In March, it's Alexandra Palace in London and then April, back to London for the Acton Museum Open Weekend. If you're attending any of these shows, please come along and say hello!

You may notice the word 'HOT' next to a few titles in our catalogue. This basically means these are very popular and best-selling titles and we have plenty of them in stock. If you order before 12noon on a weekday, we guarantee to ship your order by first class post the same day. Don't forget we still charge £ZERO postage on all DVD/Blu-ray orders to UK addresses. Please don't be paying £2.00 or £2.50 per DVD from other sellers. If the item you want is £14.95, that's exactly what it will cost you - £zero postage - £zero credit card fees - GUARANTEED!
Thank you for your continued support.
Click here to download the catalogue (approx. 39Mb pdf)
Blackpool Trams 1950-1967
Blackpool Trams 1950-1967 has arrived from the printers and is now shipping!
The book has been completed to a very high standard, on lovely thick glossy paper. Each copy is being certified, numbered and signed by the author.

NEW Steam Footplate Rides!

We are pleased to announce we have 2 new Steam Footplate Rides available to pre-order now!
Steam Driver's Eye View - Welsh Marches Line (Newport - Hereford - Shrewsbury)
Join us for this unique view along the Welsh Marches Mainline with an ex-Great Western Railway Castle Class Locomotive. Known historically as the 'North & West Route', our journey begins at Newport, before heading northbound, taking in the dramatic scenery as we climb to Pontypool & Llanvihangel. After a brief stop at Hereford, our journey continues north as we pass some timeless pieces of railway history, with plenty of GWR infrastructure dominating the scene, before we arrive at Shrewsbury.
With live sound recorded from the locomotive, we bring the action right to you. This program also features on-screen titles & locations.
Locomotive Featured: GWR Castle Class, No. 5029 'Nunney Castle'
Click here for more details


Steam Driver's Eye View - East Coast Mainline: Volume 3 (Berwick - Edinburgh)
After crossing the Royal Border Bridge, we continue our journey along the final stretch of this famous Mainline from Berwick-Upon-Tweed, before crossing the actual border into Scotland. We continue to climb alongside the stunning cliff faces at 'Marshall Meadows Bay' up to Burnmouth before turning inland and speeding along the downhill gradients towards Reston. With the coastline insight once again near Cockburnspath, we run partly parallel with the original A1 road towards Dunbar and East Linton. From here we continue towards Scotland's Capital as we race past Craiggentinny Depot and into the final tunnels before emerging into Edinburgh Waverley Station.
With live sound recorded from the locomotive, we bring the action right to you. This program also features on-screen titles & locations.
Locomotive Featured: LNER A4 Class, No.60009 'Union of South Africa'.
Click here for more details
Video Downloads - available on this website!
Railway videos to watch on your computer or TV - right now
Great News! Our popular video downloads are now available to purchase directly on this website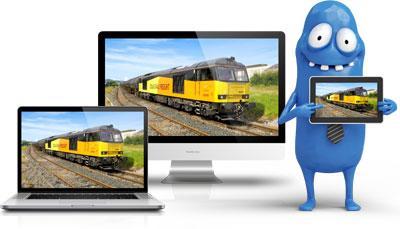 We offer many great titles in Standard and High Definition. Once downloaded, you can watch the videos on your computer, mobile device or TV - and the downloads are yours to keep forever.
We began producing railway videos on VHS cassettes back in 1994. As technology evolved we moved onto DVDs and more recently to high definition Blu-rays - Video Downloads are another step forward. It isn't a replacement for DVDs and Blu-rays, it's an additional service we offer.
After making a purchase you will receive a link by email from where you can download your videos. They are then yours to keep forever and play on any devices you like.


If you see this icon next to one of our titles, that means it is the video download version.
Click here to see our video downloads Click here for more information about our downloads.
New Books Now in Stock
Available POST FREE to all UK customers - click for details.



The New Blackpool Tram Shop
The NEW Blackpool Tram Shop is now open!
The new shop is located on the outskirts of Blackpool at Whitehills Business Park, behind the huge B&Q, two minutes from J4 at the end of the M55.
There was an ongoing joke that if four people were in the old shop it was full and this may well have been true! The new unit eliminates all of this and has many benefits which include: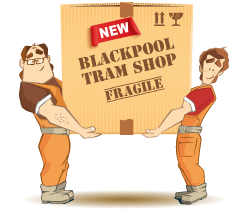 FREE customer parking, which we were asked for so many times
A huge first floor showroom, 10 times the size of the old shop
For the first time we will be able to display ALL of our DVDs and ALL of our books plus many other items - not just a selection
The shop is a new-build on a developing complex and on all those winter days of gale force winds and high tides - when we couldn't open at North Pier - this is very much inland, less windy and drier!
We will be now be able to expand further, introduce more books, new tram memorabilia and some other very exciting new products yet to be announced
Shop opening hours are:
Mondays to Fridays: 10am to 5pm
Saturdays: 10am to 4pm
Sundays: Closed
Click here for more details.