Coronavirus update 19th July 2021
We are pleased to announce that from 19th July The Blackpool Tram Shop will be opening for longer each day - 10am to 4pm Mondays to Saturdays - with one person or one group of people allowed in at once.
Our office and mail order service are operating as normal from 9am to 4.30pm Monday to Friday, taking calls and processing orders. Please order as normal.
Please order from Videoscene as normal:
Order online from this website: www.videoscene.co.uk
Order by phone: 01253 738336 (9am to 4.30pm Monday to Friday)
Order by post: FREEPOST VIDEOSCENE (no stamp or postcode required)
Visit The Blackpool Tram Shop: 10am to 4pm (One person or one group of people allowed in at once.)
Thank you for your support.
The New Blackpool Tram Shop
The NEW Blackpool Tram Shop!
The new shop is located on the outskirts of Blackpool at Whitehills Business Park, behind the huge B&Q, two minutes from J4 at the end of the M55. This new shop is quite a distance from the old one at North Pier and can be reached by public transport using Stagecoach bus No.61 (Blackpool-Preston route), ten minutes walk from Peel Hill B&Q stop.
The new address of The Blackpool Tram Shop is:
Unit 8, Juniper Court
Thompson Road
Whitehills Business Park
Blackpool
FY4 5QF
Click here to see a map.
As this is a new build, it currently doesn't show on Google maps and may not show on Sat navs. Try FY4 5QF (or FY4 5PL - which is Woodside, the road after Thompson Road. You will pass and see Juniper Court on your left).
Please note:
Our usual contact details for mail order (PO Box 243) remain unchanged. Same phone number, same postal address, same email and web details.
There was an ongoing joke that if four people were in the old shop it was full and this may well have been true! The new unit eliminates all of this and has many benefits which include: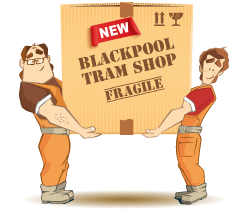 FREE customer parking, which we were asked for so many times
A huge first floor showroom, 10 times the size of the old shop
For the first time we will be able to display ALL of our DVDs and ALL of our books plus many other items - not just a selection
The shop is a new-build on a developing complex and on all those winter days of gale force winds and high tides - when we couldn't open at North Pier - this is very much inland, less windy and drier!
We will be now be able to expand further, introduce more books, new tram memorabilia and some other very exciting new products yet to be announced