Our BIG DVD SALE is on NOW!
To make way for new releases in 2020, there are hundreds of DVDs and Blu-rays in our special sale, many at half price!
We have archive steam, diesels and electrics, cab rides and trams and with DVDs from just £4.95 and Blu-rays from £6.95, now is the time to get yourself a bargain
There are more than 500 DVDs and Blu-rays at £9.95 and a special 3-for-2 offer on many titles.
The sale is on now and runs until Friday 31st January - but BEWARE, some items are LIMITED STOCK and once they've gone, they've gone!
If you want a specific title, to complete your collection or you just fancy a bargain, just browse our new SALE categories!
All UK DVD and Blu-ray orders are shipped post free!
Thank you for your support during 2019. Have a happy and healthy New Year. Best wishes from the Videoscene crew.
Coronavirus update 3rd December 2020

From Thursday 3rd December The Blackpool Tram Shop will be open from 11am to 3pm and the Videoscene mail order service will be operating as normal.
Please order from Videoscene as normal:
Order online from this website: www.videoscene.co.uk
Order by phone: 01253 738336 (9am to 4pm Monday to Friday)
Order by post: FREEPOST VIDEOSCENE (no stamp or postcode required)
Blackpool Tram Shop: Open 11am to 3pm Monday to Saturday
Thank you for your support.
Winter 2020/21 DVD Catalogue out now!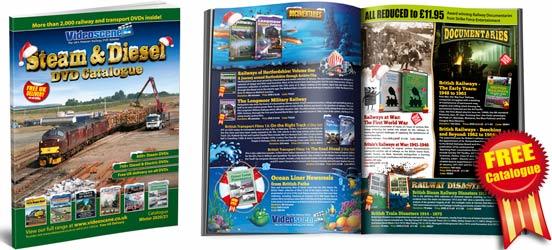 I don't think you need me to tell you that 2020 has been a strange and difficult year. Who would have thought that the biggest model railway event of the year at Warley would be cancelled and the second biggest at Glasgow, next February is also now cancelled. With much of the railway year wiped out as well, I'm quite pleased to be bringing you our new catalogue, with a larger-than-expected number of new releases.
Click here to order a free printed catalogue or click here to download the catalogue, approx. 20Mb pdf.
Contained in the catalogues 32 pages, you'll find details of more than 50 new titles as well some new lower prices and special offers. Starting at just £9.95, the DVD remains the ultimate stocking filler!
For diesel and electric fans, new titles include Big Freight 23, Sunrise Sunset 10, Class 37 Hauled 12 and No.6 in the best-selling and popular British Rail Motive Power series - with another feast of diesels and electrics from the 1980s onwards.
For steam fans, a Driver's Eye View on board 'Union of South Africa' from Norwich to Peterborough; Southbound on the North Yorkshire Moors on board 'Eric Treacy' and superb archive footage in Trains & Trams of the Isle of Man 1956 -1972.
New cab rides include a journey on board 37418 on the Welsh Marches plus some cab rides from the 1990s.
We now have 20 four-disc sets to choose from - spanning archive steam and diesels plus modern image - with up to five hours of running time - all for just £25.00 a set.
Add European and worldwide railways, buses, trams, planes, cars, ships and some great new books, we've got Christmas all wrapped up!

You may notice the word 'HOT' next to a few titles in our catalogue. This basically means these are very popular and best-selling titles and we have plenty of them in stock. If you order before 12noon on a weekday, we guarantee to ship your order by first class post the same day. Don't forget we still charge £ZERO postage on all DVD/Blu-ray orders to UK addresses. Please don't be paying £2.00 or £2.50 per DVD from other sellers. If the item you want is £14.95, that's exactly what it will cost you - £zero postage - £zero credit card fees - GUARANTEED!
Please note: With all model shows and events cancelled, we've stepped up the mail order side of Videoscene. At the time of production, Royal Mail is working as normal and orders are getting through in the expected time.
Thank you for your continued support.
Click here to download the catalogue (approx. 20Mb pdf)
NEW 4 Disc Collections Available Now!

Four disc value-for-money collections featuring some of our previous releases. We are pleased to announce the release of five new four disc collections - making twenty collections in total!
Click here for more details.
Blackpool and the Trams 2021 Calendar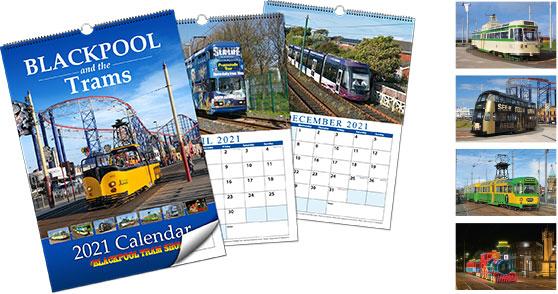 Our 2021 calendar is now in stock.
Once again, presented in A3-size format, with a page per month, the best of Blackpool's tram cars from the past and present are featured. These are all new images, not reprints of our previous calendars.
The calendar is A3 sized, spiral bound showing one month at a time. Printed on glossy paper in full colour, to the same high standard as always, it will be available from this website and the Blackpool Tram Shop. Click here to order.
Blackpool Trams 1950-1967
Blackpool Trams 1950-1967 has arrived from the printers and is now shipping!
The book has been completed to a very high standard, on lovely thick glossy paper. Each copy is being certified, numbered and signed by the author.

Video Downloads - available on this website!
Railway videos to watch on your computer or TV - right now
Great News! Our popular video downloads are now available to purchase directly on this website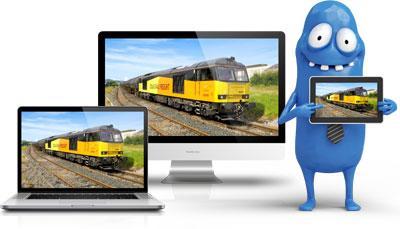 We offer many great titles in Standard and High Definition. Once downloaded, you can watch the videos on your computer, mobile device or TV - and the downloads are yours to keep forever.
We began producing railway videos on VHS cassettes back in 1994. As technology evolved we moved onto DVDs and more recently to high definition Blu-rays - Video Downloads are another step forward. It isn't a replacement for DVDs and Blu-rays, it's an additional service we offer.
After making a purchase you will receive a link by email from where you can download your videos. They are then yours to keep forever and play on any devices you like.


If you see this icon next to one of our titles, that means it is the video download version.
Click here to see our video downloads Click here for more information about our downloads.
New Books Now in Stock
Available POST FREE to all UK customers - click for details.