Coronavirus update 29th November 2021

We are open as normal.
Our office and mail order service are operating as normal from 9am to 4.30pm Monday to Friday, taking calls and processing orders. Please order as normal.
The Blackpool Tram Shop is open as normal, 10am to 4pm Monday to Saturday. Following the latest government advice we request that customers wear a face covering.
Please order from Videoscene as normal:
Order online from this website: www.videoscene.co.uk
Order by phone: 01253 738336 (9am to 4.30pm Monday to Friday)
Order by post: FREEPOST VIDEOSCENE (no stamp or postcode required)
Visit The Blackpool Tram Shop: 10am to 4pm (One person or one group of people allowed in at once.)
Thank you for your support.
NEW Winter 2021/22 DVD Catalogue!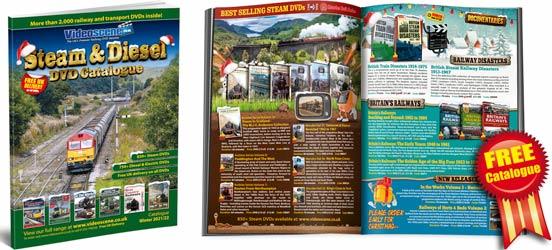 2021 appears to have flown by and here we are with the winter catalogue and the run up to Christmas. This year is again a bit strange with none of the usual Model Railway Exhibitions but here at Videoscene we're pretty much back to normal, the mail order side is running well and the shop is open again.
In our new 32 page Winter 2021 catalogue, you'll find details of almost 50 new titles as well as some new lower prices and special offers. Starting at just £9.95, the DVD remains the ultimate stocking filler!
Click here to order a free printed catalogue or click here to download the catalogue, approx. 23Mb pdf.
For diesel and electric fans, new titles include Big Freight 25, Power Hour 9, Class 37 Hauled 15 and No.8 in the best-selling and popular British Rail Motive Power series.
For steam fans, new footplate rides include the East Lancs Railway with 60009 and on board No.7029 'Clun Castle' working the Capitals United Express. New archive steam includes West Country Railwars: GWR v LSWR in the Far West.
Our cab rides are always popular and out now or coming soon we have 37884 from Derby to Preston via the Hope Valley and a HST from Doncaster to Gloucester plus EMUs from London to Brighton and London to Bedford and some more re-released cab rides from the 1990s.
Add our popular four-disc sets, European and worldwide railways, buses, trams, planes, cars, ships and some great new books, we've got Christmas all wrapped up!

You may notice the word 'HOT' next to a few titles in this catalogue. This basically means these are very popular and best-selling titles and we have plenty of them in stock. If you order before 10am on a weekday, we can normally ship your order by first class post the same day.
Don't forget we still charge £ZERO postage on all DVD/Blu-ray orders to UK addresses. Please don't be paying £2.00 or £2.50 per DVD from other sellers. If the item you want is £14.95, that's exactly what it will cost you - £zero postage - £zero credit card fees - GUARANTEED!
Thank you for your continued support.
Click here to download the catalogue (approx. 23Mb pdf)
Big Freight 25 - Special 3 Hour Edition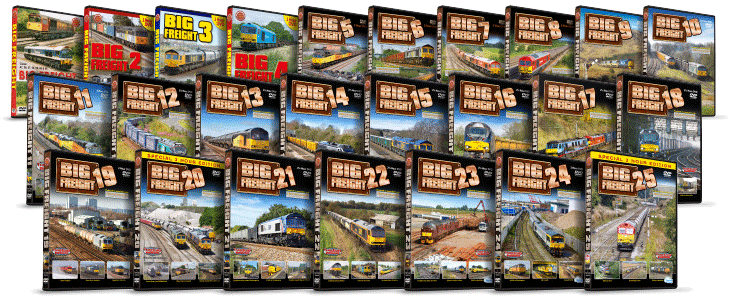 The Big Freight series reaches No.25! To mark the occasion this is a special three-hour edition and it includes the best of the freight action from 2021. Produced in conjunction with Freightmaster, a vast amount of trains are featured with new flows, diversions, freight-only lines all wrapped up in a blaze of different liveries!
Click here to see the full Big Freight series.
Blackpool and the Trams 2022 Calendar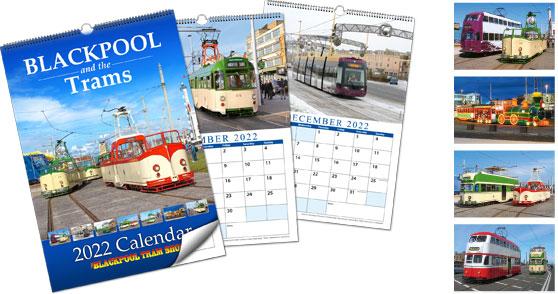 Our 2022 calendar is now in stock.
Once again, presented in A3-size format, with a page per month, the best of Blackpool's tram cars from the past and present are featured. These are all new images, not reprints of our previous calendars.
The calendar is A3 sized, spiral bound showing one month at a time. Printed on glossy paper in full colour, to the same high standard as always, it is available from this website and the Blackpool Tram Shop. Click here to order.
32 Four-Disc Collections available now!


We now have 32 four-disc value-for-money collections, featuring some of our previous releases.
Click here for more details.
Blackpool Trams 1950-1967
Blackpool Trams 1950-1967 has almost sold out so don't delay, order your copy today!
The book has been completed to a very high standard, on lovely thick glossy paper. Each copy is being certified, numbered and signed by the author.


Book 2 in this series, Blackpool Trams 1968-1985 is available to pre-order now.
New Books for Winter 2021
Here at Videoscene we specialise in DVDs and Blu Rays but we also sell a range of books, mostly from small publishers who only have a few titles, and these often complement our DVD programmes. Click here for our full range of transport books.
Video Downloads - available on this website!
Railway videos to watch on your computer or TV - right now
Great News! Our popular video downloads are now available to purchase directly on this website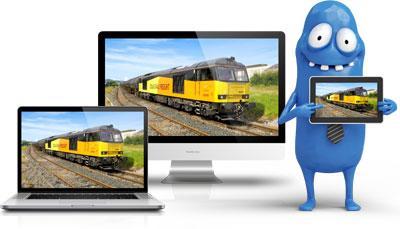 We offer many great titles in Standard and High Definition. Once downloaded, you can watch the videos on your computer, mobile device or TV - and the downloads are yours to keep forever.
We began producing railway videos on VHS cassettes back in 1994. As technology evolved we moved onto DVDs and more recently to high definition Blu-rays - Video Downloads are another step forward. It isn't a replacement for DVDs and Blu-rays, it's an additional service we offer.
After making a purchase you will receive a link by email from where you can download your videos. They are then yours to keep forever and play on any devices you like.


If you see this icon next to one of our titles, that means it is the video download version.
Click here to see our video downloads Click here for more information about our downloads.

]