Coronavirus update 24th July 2020
In line with government regulations, all customers visiting The Blackpool Tram Shop will need to wear a face cover or mask from today, 24th July.
We are open 11am to 3pm Monday to Saturday. Our mail order business is running as normal. The office is manned from 9am to 4pm Monday to Friday. Thank you for your support.

Tram Shop reopening on Monday 15th June
Following new guidelines from the Government, we're pleased to announce that the Blackpool Tram Shop will have a limited reopening from Monday 15th June.
We realise that as much of Blackpool remains closed and there is no tram service at this time, there are not many visitors. However, we have a few local customers and like all businesses we have to start somewhere so here goes…
We will be open from 11am to 3pm Mondays to Saturdays and we ask if you could do the following:
When you arrive, the main door will be locked. Please ring the bell. You will be attended to as soon as possible. There may only be one person working.
Once inside the building please use the hand sanitiser before going upstairs.
Strictly ONE PERSON in the showroom at once.
At all times and when paying at the counter, please obey the 2 metre rule. (Cash and cards accepted)
Sorry if all this is a bit long-winded but there are strict guidelines from the Government on reopening, regarding protecting staff and customers. We have a legal obligation to do all this. Thank you for your understanding.
Our website and mail order section is running as normal.
NEW Autumn 2020 DVD Catalogue out now!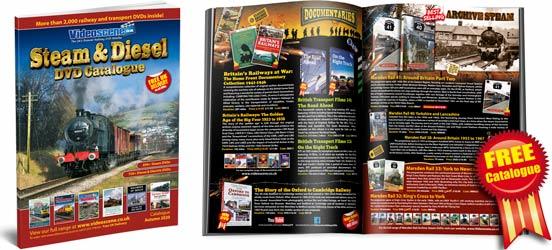 Despite the ongoing UK wide restrictions and the reduction in trains operated and Heritage lines open - and in turn, opportunities to film - I'm pleased to be able to bring you what is almost a near-normal catalogue for this time of year. Many of the producers have dug deep into the archives and over the next 32-pages, there are some great new titles to provide a bit of joy during these difficult times.
Click here to order a free printed catalogue or click here to download the catalogue, approx. 9Mb pdf.
Out now and coming soon is a Cab Ride on a pair of Class 20s from Newport to Kings Norton, a Cab Ride on a Class 185 from Manchester to Liverpool and Traction 2020 Part 1 is on schedule for a late August release.
Staying with diesels and Class 37 Hauled No.11 is new, along with East Coast Power, BR Green Diesels and Diesel Masterclass and we are pleased to announce five more value-for-money Four-disc sets.
How about something completely different: Colour by Numbers 2008-2020 - 101 different Loco, DMU, EMU, Coach and Wagon liveries!
For steam fans, we have some great compilations from PSOV featuring Union of South Africa, Nunney Castle, Princess Margaret Rose and The Great Marquess; and Isle of Wight Railways in Colour 1953 -1994 is selling well.
New European and Swiss titles include three new Swiss Cab Rides from Perren and German and Swiss Loco titles from Lineside.

You may notice the word 'HOT' next to a few titles in our catalogue. This basically means these are very popular and best-selling titles and we have plenty of them in stock. If you order before 12noon on a weekday, we guarantee to ship your order by first class post the same day. Don't forget we still charge £ZERO postage on all DVD/Blu-ray orders to UK addresses. Please don't be paying £2.00 or £2.50 per DVD from other sellers. If the item you want is £14.95, that's exactly what it will cost you - £zero postage - £zero credit card fees - GUARANTEED!
Please note: Orders are still being processed, delivery may take an extra day or two, but they are getting through.
Thank you for your continued support.
Click here to download the catalogue (approx. 17Mb pdf)
NEW 4 Disc Collections Available Now!

Four disc value-for-money collections featuring some of our previous releases. We are pleased to announce the release of five new four disc collections - making fifteen collections in total!
Click here for more details.
Blackpool Trams 1950-1967
Blackpool Trams 1950-1967 has arrived from the printers and is now shipping!
The book has been completed to a very high standard, on lovely thick glossy paper. Each copy is being certified, numbered and signed by the author.

NEW Steam Footplate Rides!

We are pleased to announce we have 2 new Steam Footplate Rides available to pre-order now!
Steam Driver's Eye View - Welsh Marches Line (Newport - Hereford - Shrewsbury)
Join us for this unique view along the Welsh Marches Mainline with an ex-Great Western Railway Castle Class Locomotive. Known historically as the 'North & West Route', our journey begins at Newport, before heading northbound, taking in the dramatic scenery as we climb to Pontypool & Llanvihangel. After a brief stop at Hereford, our journey continues north as we pass some timeless pieces of railway history, with plenty of GWR infrastructure dominating the scene, before we arrive at Shrewsbury.
With live sound recorded from the locomotive, we bring the action right to you. This program also features on-screen titles & locations.
Locomotive Featured: GWR Castle Class, No. 5029 'Nunney Castle'
Click here for more details


Steam Driver's Eye View - East Coast Mainline: Volume 3 (Berwick - Edinburgh)
After crossing the Royal Border Bridge, we continue our journey along the final stretch of this famous Mainline from Berwick-Upon-Tweed, before crossing the actual border into Scotland. We continue to climb alongside the stunning cliff faces at 'Marshall Meadows Bay' up to Burnmouth before turning inland and speeding along the downhill gradients towards Reston. With the coastline insight once again near Cockburnspath, we run partly parallel with the original A1 road towards Dunbar and East Linton. From here we continue towards Scotland's Capital as we race past Craiggentinny Depot and into the final tunnels before emerging into Edinburgh Waverley Station.
With live sound recorded from the locomotive, we bring the action right to you. This program also features on-screen titles & locations.
Locomotive Featured: LNER A4 Class, No.60009 'Union of South Africa'.
Click here for more details
Video Downloads - available on this website!
Railway videos to watch on your computer or TV - right now
Great News! Our popular video downloads are now available to purchase directly on this website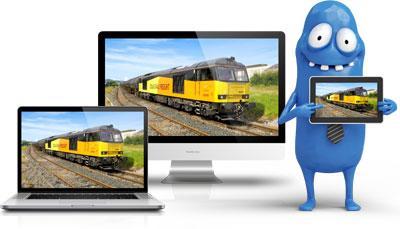 We offer many great titles in Standard and High Definition. Once downloaded, you can watch the videos on your computer, mobile device or TV - and the downloads are yours to keep forever.
We began producing railway videos on VHS cassettes back in 1994. As technology evolved we moved onto DVDs and more recently to high definition Blu-rays - Video Downloads are another step forward. It isn't a replacement for DVDs and Blu-rays, it's an additional service we offer.
After making a purchase you will receive a link by email from where you can download your videos. They are then yours to keep forever and play on any devices you like.


If you see this icon next to one of our titles, that means it is the video download version.
Click here to see our video downloads Click here for more information about our downloads.
New Books Now in Stock
Available POST FREE to all UK customers - click for details.